Summer Family Days with Outdoor Machinery Demonstrations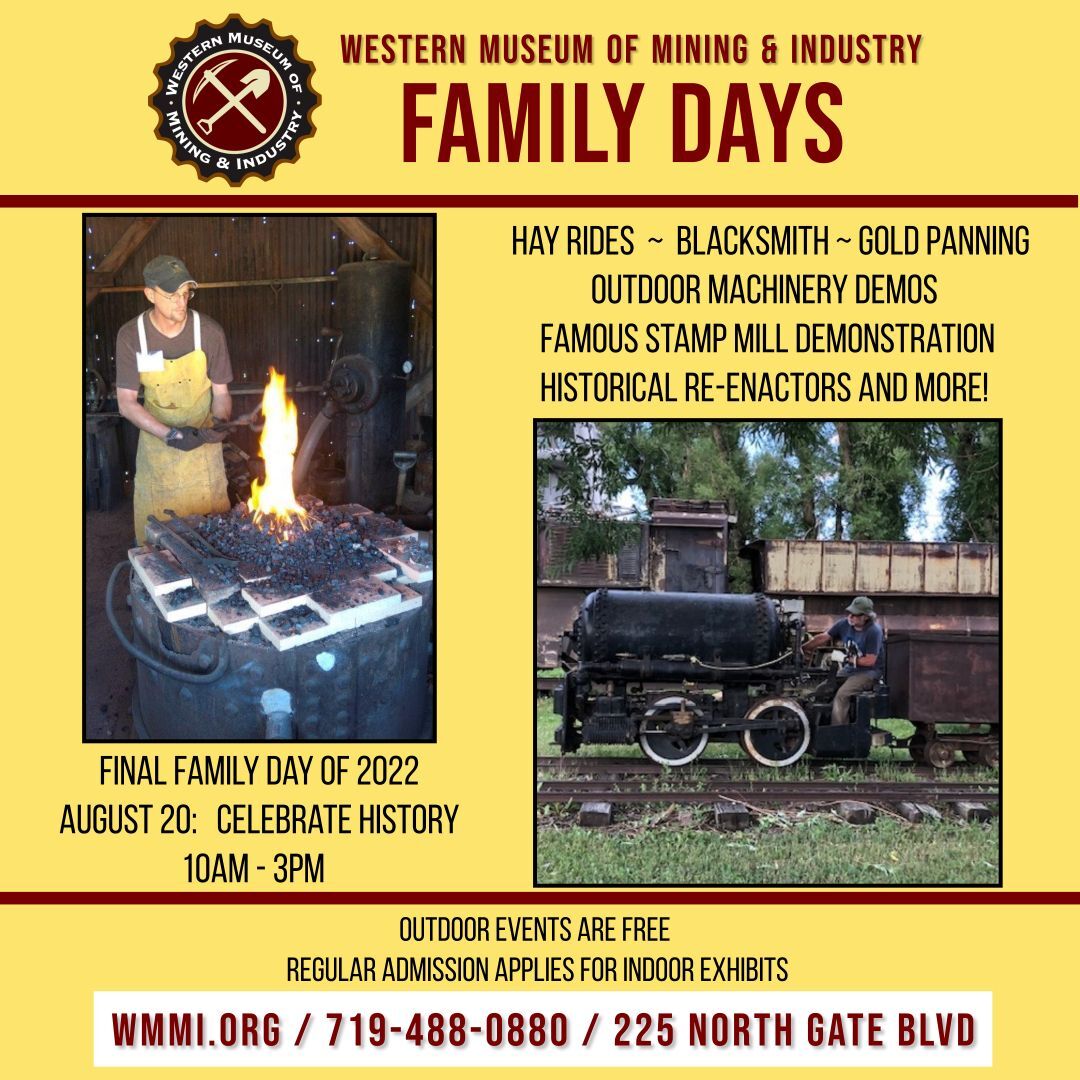 WMMI FAMILY DAY: History 10am - 3pm
See why WMMI is "The Museum That Works"
Three times each summer, we offer 3 FAMILY DAYS where we operate the outdoor machinery including our famous Yellow Jacket II Stamp Mill.  We also demonstrate the 1920 Osgood Steam Shovel, The Air Trammer and the scary Mucker (the most dangerous of the mining machinery).
The Blacksmith Shop is open at the top of the Campus from 10am - 2pm. 
Tractor-Pulled Hayrides take you to around the campus 10am - 3pm.
Don't miss the opportunity to try Gold Panning  from 10am - 3pm
HISTORY exhibitors include the Gold Canyon Gunfighters, Model A Car Club, Colorado Military Historical Group and more.
There will be food sold on campus inside the Hay Barn, or feel free to bring your own picnic and enjoy our beautiful scenery.
Outdoor activities are FREE.  Regular admission applies for inside the museum. Museum Members are always FREE.
Schedule of Outdoor Event Demonstrations:
11:15am  Osgood Steam Shovel, Porter Air Trammer, Mining Mucker
11:45am (approx)  Demonstration of Yellow Jacket II Stamp Mill
_____
2:15pm  Osgood Steam Shovel, Porter Air Trammer, Mining Mucker
2:45pm (approx)  Demonstration of Yellow Jacket II Stamp Mill
WMMI is open Monday – Saturday, 9am – 4pm.  For more information on the museum's exhibits and programs, call 719-488-0880.  Tickets are NOT required for outdoor events.  If you would like to pre-purchase tickets for the museum, click here. WMMI Museum Tickets
Family Day: Science JUNE 11