WMMI MONTHLY SPEAKERS' BUREAU LECTURES
The monthly Speakers' Bureau Lectures, hosted by WMMI, are designed to inform and educate members and the general public on important subjects pertaining to the history and science of mining and industry.
Admission is always FREE to Museum members and just $5 per person for the general public. 
---
October Lecture Tuesday, October 11 at 4pm. Bruce Geller presents "A History of Colorado Gold Mining"
You may know about Colorado's gold rush in the 1850s, but maybe you didn't know that most of the gold produced in Colorado wasn't even discovered for another 40 years! I'll explore where most of the gold came from, and continues to come from to this day. Bring your questions and I'll try my best to answer them.
Bruce Geller's biography:
Bruce holds B.S., M.A., A.M., and Ph.D. degrees in geology and has worked in the mineral industry since 1981 as an explorationist, research consultant, journalist, business manager, consulting mineralogist, professor, technical editor, and Museum Director at the Colorado School of Mines Geology Museum for over ten years. He has authored many professional publications on minerals and serves in many volunteer capacities. He is married to Judy and has two grown children.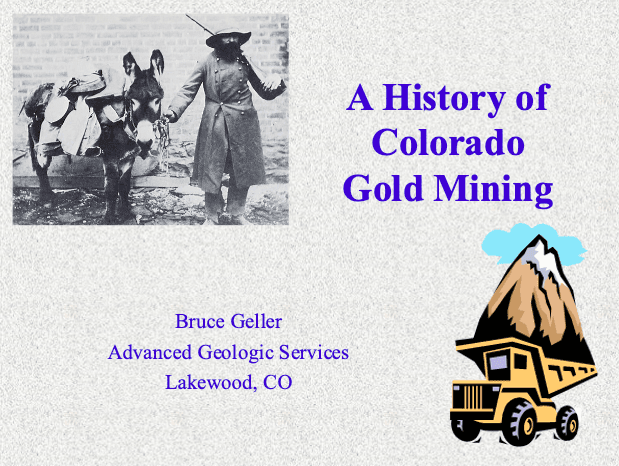 ---
2022 Lectures
Sept 13:  Bryan Kahtava opened WMMI Temporary Exhibit, "Left Behind in the Mines"
Aug 9:  Mel McFarland, local author, engineer and "Railroad Hero" enlightened a packed house about the Cripple Creek Railroads including the famous "Short line"
July 12:  Jack Anthony delighted the crowd with 3 Stories of the USAFA grounds, before it was USAFA: Catheral Rock, North Gate Entrance & the Train Crash at Husted
June 14:  Brad Bowers, Author from Pueblo Community College, helped us understand so much about our region by presenting: Stone and Clay - The Mining Environs of Stone City
May 10: Barry and Joan Currie got us ready for summer adventures by presenting a fabulous look at  Ghost Towns, Mining Camps and More Off-the-Beaten-Track Adventures
April 12:  Troy Zellers of the Wilfley Company discussed the history, current influences and future vision of the Wilfley Company
March 15: Steven Veatch showed us treasures and unique finds as he presented  "Things left behind--An intimate time with Spencer and Julie Penrose"
February 22: Blake Wilson presented and in depth look at the "Art of Harvey Otis Young" to launch our temporary exhibit
---
2021 Lectures
March 2021:  Dr Richard Sauers "The Rehabilitation of the 1890's Reynolds Ranch Farm House"
April 2021: Mr Conrad North, "Ready, Set, Glow"  The opening of WMMI Fluorescent Mineral Exhibit
May 2021: Ms Kaitlyn McGann, "Egyptian Mining"   (To watch, click here)
June 2021:  Mr Steve Veatch, "The Story of Gilman"
July 2021:  Dr Richard Sauers, "Some of the Hidden Stories of Cripple Creek"
August 2021: "From Comstock to Caribou"
September 2021: Dr Karin Larkin, "The Archeology of the Ludlow Massacre" The opening of Temporary Exhibit
October 2021: Ms Julie Haverluk, "Fox Farming in El Paso County"
November 2021: Mr Richard O'Meara of Orica, "One Blast, One Chance for Success"
---