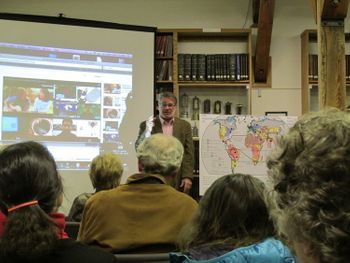 WMMI MONTHLY SPEAKERS' BUREAU LECTURES
The monthly Speakers' Bureau Lectures, hosted by WMMI, are designed to inform and educate members and the general public on important subjects pertaining to the history and science of mining and industry.
Admission is always FREE to Museum members and just $5 per person for the general public.  If a monthly lecture series is held on-line, Members receive an email with the link to the lecture.  The lecture will be released to the general public via the WMMI website.
September 16 Speakers Bureau Monthly Lecture: Killing for Coal: The Archaeolgy of the Ludlow Massacre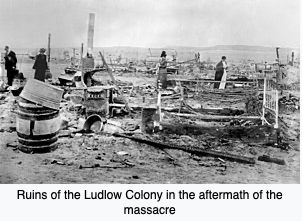 The massacre of striking miners and their families at Ludlow, Colorado, on April 20, 1914, made newspaper headlines worldwide. Coal miners had gone on strike in September 1913 to protest unsafe working conditions, long hours and low pay, and non-compliance with state mining laws by several coal mining companies, including Colorado Fuel & Iron and Victor American Fuel Company. Miners and their families established a number of tent colonies; Ludlow was located twelve miles northwest of Trinidad. Gunfire between strikers and state militia troops took place on April 20 and resulted in more than twenty deaths. The camp was overrun and burned by the troops. In the long run, the terrible calamity at Ludlow led to federal and state legislation designed to address the complaints of miners against their employers.
This exhibit is curated by the Department of Anthropology at the University of Colorado, Colorado Springs. With the permission of the United Mine Workers of America, the UCCS department, and in conjunction two other universities, they performed archaeological digs at Ludlow that helped to answer a number of questions about the site. Using storyboards, artifacts from the camp found by the department students and professors, and artifacts from the museum's collections, Killing for Coal tells the Ludlow story.
Thank you to Dr Karin Larkin , Assistant Professor and Curator of Anthropology at UCCS. who opened our exhibit with a fascinating lecture. Her students, (Spring  Semester 2021), wrote the text for this exhibit and assembled the images and artifacts, with assistance from staff at WMMI. The exhibit will close December 18, 2021.
The Killing for Coal special exhibit is publicly accessible during the museum's normal business hours of 9am-4pm Monday-Saturday. Regular museum admission rates apply.
Photo is available from the United States Library of Congress Prints and Photographs division under digital ID ggbain.15859. Public Domain File: Ruins of Ludlow restored. created 1 January 1914
---
August 10 Speakers Bureau Monthly Lecture: From Comstock to Caribou
The 1859 discovery of silver and gold deposits in far western Nevada ushered in the Country's second major mining effort—the saga of the storied Comstock Lode. By 1861 major discoveries were turning out silver and gold, but the technology available to these first mines was a process first utilized at Pachuca, Mexico in 1554. At the Comstock, gold and silver recoveries were poor, and with in a few years, a new process was introduced. This new method, known as the Washoe Process, was definitely an improvement, but it wasn't until 1869 that the extraction truly became efficient. A new step was added, roasting the ores prior to the amalgamation of the ores. Roasting arrived just in time for it be incorporated into the processing of the first important silver ores in Colorado.
            The 1869 discovery of silver deposits at Caribou in Boulder County initiated the first substantial silver mining operation in the territory. The Caribou Mine and several adjacent claims (No Name, Poorman, Native Silver, and others) are estimated to have produced $2.5 million (value at time mined) before 1883 (Lovering & Goddard, USGS PP 223). The story of silver production at Caribou is largely the story of the Caribou Mine. All of the elements of civilization, from economics to science and technology to politics, have had a profound influence on the operations of the Caribou Mine. In addition, the story has been highlighted by the efforts of several entrepreneurs.
            This presentation told the story of silver production, from the Comstock to Caribou.  Thanks to everyone who came out for this Lecture.
---
July 13 Speakers Bureau Montly Lecture: Hidden History of Cripple Creek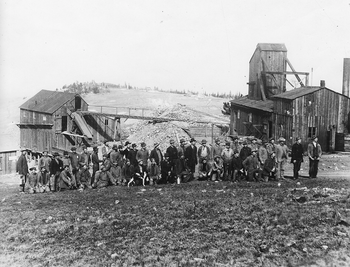 Thank you to museum curator, Dr Rick Sauers, for the great discussion on "Some of the Hidden History of Cripple Creek" discussing what many authors of books on the mining district have missed over the years. Most historical writers tell about the mines and the top producers, but they don't examine what mining actually cost and how thin profit margins were for most companies. The leasing system has been forgotten, even though this was a primary way for mining companies to have their property worked.  Participants learned the history of our region--understanding the significance of the Gold Rush and supporting mining industries to the PIkes Peak area.
---
June 8 Speakers Bureau Monthly Lecture: The Story of Gilman
Thank you to Steve Veatch for his hugely interactive and fascinating look at the ghost town of Gilman. He will return March 2022 for an encore presentation!
Steven Veatch shared photographs and videos of his onsite explorations of Gilman, an abandoned mining town in southeastern Eagle County, Colorado. We saw the old hospital, general store, geology lab, miner's hall, and other town buildings. This presentation tells the story of Gilman's four phases: 1) Gilman as a 19th century boomtown; 2) Gilman as a model company town under the ownership of New Jersey Zinc; 3) how Gilman fueled a thriving mid-20th century American economy; and 4) Gilman as a toxic wasteland after 100 years of environmental degradation. In the presentation the town's significance is explored in the broader context of Colorado and Western American history. Today this is private property and off limits to the public. Do not miss this essential presentation that examines a compelling story of Colorado's mining past in Gilman. It is a story so bold, so big, that only the American West can hold it.
---
May 11 Speakers Bureau Monthly Lecture: Egyptian Mining
Our speaker, Kaitlyn McGann, has been volunteering at WMMI since June 2020. She lives in Colorado Springs and in mid-summer 2020 virtually graduated from the University of Liverpool with a degree in Egyptology. Her interest is Egyptian linguistics and she reads hieroglyphics. Kaitlyn volunteered to give a talk as part of her internship. Enjoy this online presentation of Kaitlyn McGann's Monthly Lecture Series
---
April 13 Speakers Bureau Monthly Lecture: Ready, Set, GLOW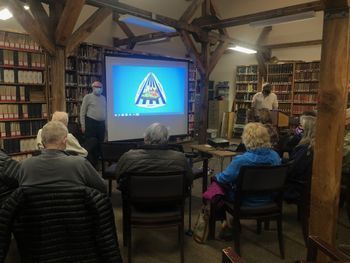 Mr Conrad North introduced our newest exhibit, Fluorescent Minerals.  We learned about their history, their make-up and what makes them so special.  The Lecture began in the Museum Library at 4pm with limited numbers due to current Covid-19 guidelines and mandates.  Thank you to everyone who came to see our new Fluorescent Minerals Room. 
---
March 9 Speakers Bureau Lecture Series (presented online)