WMMI MONTHLY SPEAKERS' BUREAU LECTURES
The monthly Speakers' Bureau Lectures, hosted by WMMI, are designed to inform and educate members and the general public on important subjects pertaining to the history and science of mining and industry.
Admission is always FREE to Museum members and just $5 per person for the general public. 
---
August Lecture-Tuesday, August 9: Mr Mel McFarland, The Cripple Creek Railroads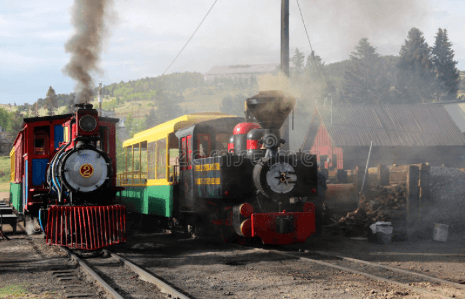 Join Mel McFarland as he takes us on a fascinating ride learning about the Cripple Creek Railroads. 
Mr McFarland is a retired school teacher and railroad conductor. He worked on the Manitou and Pikes Peak rails for 16 years, 1997 until 2014. He is a Colorado Springs native, and has written 6 books on local railroad history, as well as writes a weekly column in several local newspapers
This will be a fantastic presentation and discussion, please join us by clicking the button below or calling 719-488-0880.
Tuesday, August 9.  4pm in the WMMI Library.
Members are free. Guests are only $5 donation.
---
2022 Lectures
July 12:  Jack Anthony delighted the crowd with 3 Stories of the USAFA grounds, before it was USAFA: Catheral Rock, North Gate Entrance & the Train Crash at Husted
June 14:  Brad Bowers, Author from Pueblo Community College presented, Stone and Clay - The Mining Environs of Stone City
May 10: Barry and Joan Currie present Ghost Towns, Mining Camps and More off the Beaten Track Adventures
April 12:  Troy Zellers of the Wilfley Company discussed the history, current influences and future vision of the Wilfley Company
March 15: Steven Veatch presented, "Things left behind--An intimate time with Spencer and Julie Penrose"
February 22: Blake Wilson presented the "Art of Harvey Otis Young" to launch our temporary exhibit
---
2021 Lectures
March 2021:  Dr Richard Sauers "The Rehabilitation of the 1890's Reynolds Ranch Farm House"
April 2021: Mr Conrad North, "Ready, Set, Glow"  The opening of WMMI Fluorescent Mineral Exhibit
May 2021: Ms Kaitlyn McGann, "Egyptian Mining"   (To watch, click here)
June 2021:  Mr Steve Veatch, "The Story of Gilman"
July 2021:  Dr Richard Sauers, "Some of the Hidden Stories of Cripple Creek"
August 2021: "From Comstock to Caribou"
September 2021: Dr Karin Larkin, "The Archeology of the Ludlow Massacre" The opening of Temporary Exhibit
October 2021: Ms Julie Haverluk, "Fox Farming in El Paso County"
November 2021: Mr Richard O'Meara of Orica, "One Blast, One Chance for Success"
---