WMMI MONTHLY SPEAKERS' BUREAU LECTURES
The monthly Speakers' Bureau Lectures, hosted by WMMI, are designed to inform and educate members and the general public on important subjects pertaining to the history and science of mining and industry.
Admission is always FREE to Museum members and just $5 per person for the general public. 
Call 719-488-0880 for more information, or click on the button below to reserve your space.
August Lecture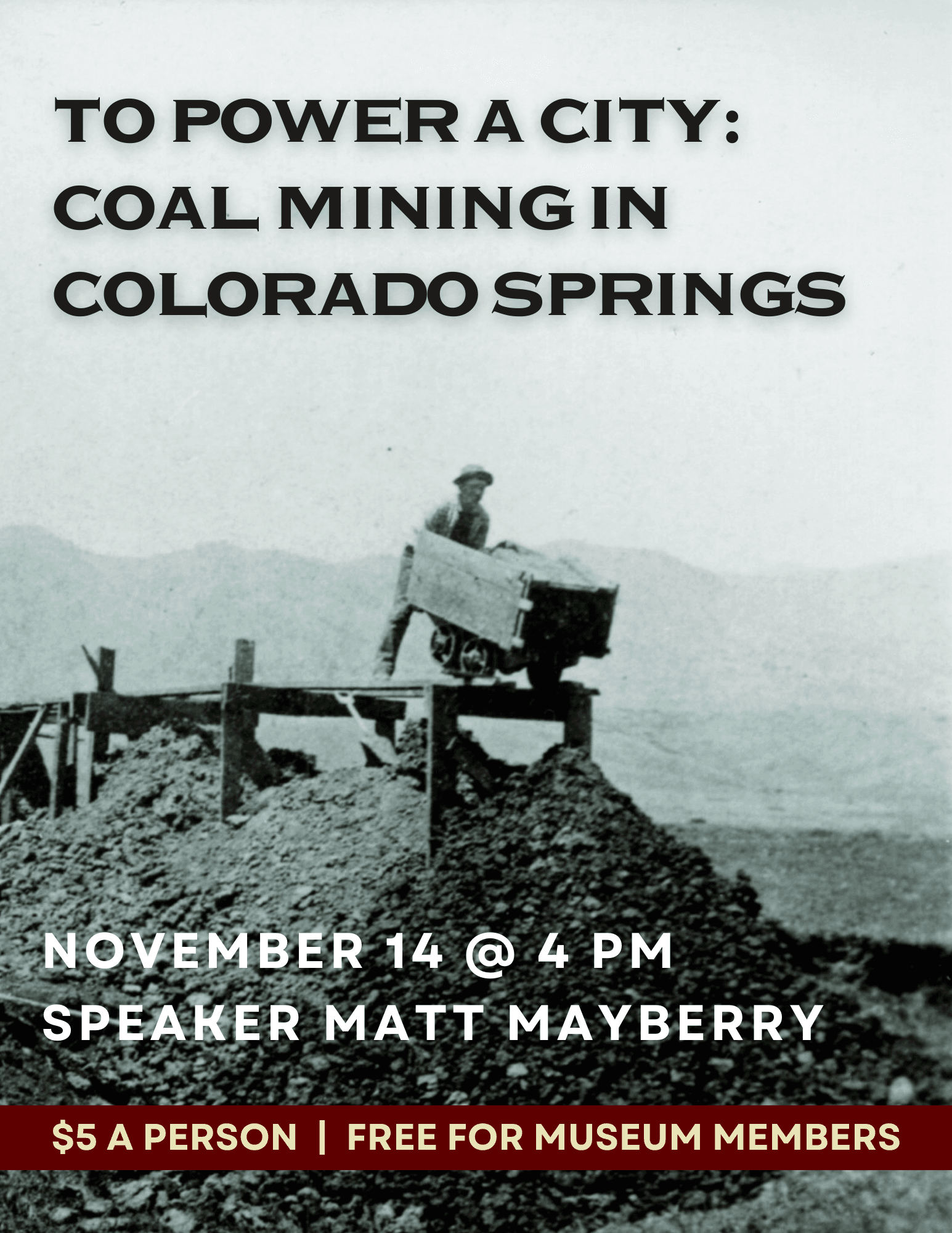 This month's lecture will examine the history and development of coal mining operations in present day Colorado Springs. It will look at the unique conditions of local coal production, how the coal was used, and explore the demographics of industry workers in this industry.
Matt Mayberry has served as the director of the Colorado Springs Pioneers Museum since 2002. He holds undergraduate and graduate degrees in history. He has published scholarly and popular articles on a variety of topics, ranging from tuberculosis treatment in the Pikes Peak region to how museums can effectively use eBay to further their missions. In addition to his duties at the CSPM, Matt is involved with numerous boards and commissions and volunteers for the American Alliance of Museums to help similar institutions around the country to evaluate their performance relative to established standards of excellence. Matt received the Award of Excellence from the American Association for State and Local History in 2022 for being a transformative leader throughout his career in the field of state and local history.
Photo: "Miner working on Pikeview Shaft No. 1 (CSPM, Pope Collection, S999.211)."
Museum Members are FREE.  General admission is only $5.  Call 719-488-0880 for more information, or click on the button below to reserve your space.
---
---
February 14:  Calvin Johnson "Mining High Grade Gold Ore"
March 14:  Donna Guthrie "Troubadors on Horseback"
April 11:  Ellen Fisher : Nathaniel Peter Hill-Colorado Senator and Historical Mining Figure
May 9:  Tim Jones "Easy Hikes to the Hidden Past"
June 13:  George Papic "Cripple Creek & Victor"
July 11:  Andrea Malcomb "More than Molly - The Amazing Margaret Brown"
August 8: Steve Antonuccio "Alexander Film Company"
September 12:  Exhibit Opening Lecture
October 10:  Bob Phillips "Norberg Steam Stamp"
November 14: Matt Mayberry "To Power a City: Coal Mining in Colorado Springs" 
---
---
2022 Lectures
Nov 2022:  Greg Patterson  of Fortitude Gold discussed Gold Mining
Oct 2022:  Bruce Geller presented, "A History of Colorado Gold Mining"
Sep 2022:  Bryan Kahtava opened WMMI Temporary Exhibit, "Left Behind in the Mines"
Aug 2022  Mel McFarland, " Cripple Creek Railroads including the famous Short Line"
Jul 2022:  Jack Anthony  "3 Stories of the USAFA grounds, before it was USAFA: Catheral Rock, North Gate Entrance & the Train Crash at Husted"
Jun 2022:  Brad Bowers,  "Stone and Clay - The Mining Environs of Stone City"
May 2022: Barry and Joan Currie "Ghost Towns, Mining Camps and More Off-the-Beaten-Track Adventures"
Apr 2022:  Troy Zellers  "History, current influences and future vision of the Wilfley Company"
Mar 2022: Steven Veatch  "Things left behind--An intimate time with Spencer and Julie Penrose"
Feb 2022: Blake Wilson, "Art of Harvey Otis Young" launched our temporary exhibit
---
2021 Lectures
March 2021:  Dr Richard Sauers "The Rehabilitation of the 1890's Reynolds Ranch Farm House"
April 2021: Mr Conrad North, "Ready, Set, Glow"  The opening of WMMI Fluorescent Mineral Exhibit
May 2021: Ms Kaitlyn McGann, "Egyptian Mining"   (To watch, click here)
June 2021:  Mr Steve Veatch, "The Story of Gilman"
July 2021:  Dr Richard Sauers, "Some of the Hidden Stories of Cripple Creek"
August 2021: "From Comstock to Caribou"
September 2021: Dr Karin Larkin, "The Archeology of the Ludlow Massacre" The opening of Temporary Exhibit
October 2021: Ms Julie Haverluk, "Fox Farming in El Paso County"
November 2021: Mr Richard O'Meara of Orica, "One Blast, One Chance for Success"
---