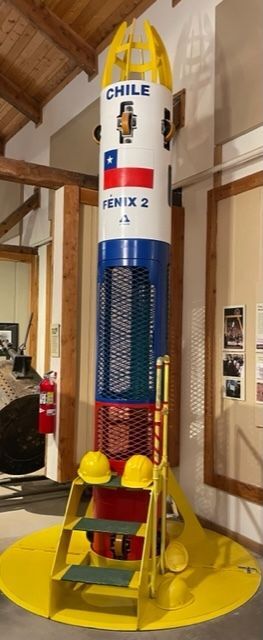 The Copiapo Mining Accident, where 33 miners were trapped 2300 feet underground for 69 DAYS, began on the afternoon of August 5, 2010. A major cave-in occurred in the 121 year-old San Jose copper and gold mine, which is located deep in the Atacama Desert in northern Chile. 
The men, known as "Los 33" became the focus of worldwide attention as we watched their drama unfold.  A team from NASA helped advise and support the team with medical care, nutrition and psychological help.  Additionally, NASA and international advisors designed the rescue capsules, dubbed FENIX (Phoenix) which were constructed by the Chilean Navy and launched to rescue the men.
The capsules were 21 inches in diameter, narrow enough to avoid hitting the sides of the tunnel.  It had retractable wheels to allow for a smoother ride to the surface.  There was an oxygen supply, lighting, video and voice communications, a reinforced roof to protect against rock falls and an escape hatch...just in case the capsule became stuck.  All of this, PLUS the men, fit inside the narrow rescue pod which traveled the three miles to bring the men to safety.
WMMI is proud to have an exact replica of the FENIX II rescue pod that you can see and touch--and even experience the feeling of being inside the cramped space. 
Explore this and other Mining Exhibits at the Western Museum of Mining and Industry.  www.wmmi.org We also encourage you to learn more about the Chilean Mining Rescue on the NASA site: NASA Miner Rescue