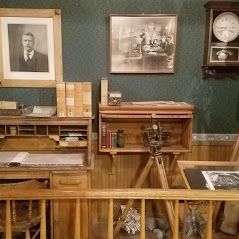 Prospecting and Mining were a significant part of the growth of Colorado Springs--the cry "Pikes Peak or Bust" is part of our history.  Success in the mines brought great prosperity to the region with many of the luckiest investors setting up shop in the area and creating businesses and philanthropies that still benefit the area today.
Winfield S Stratton made his fortune in the Cripple Creek Mining District. He staked the Independence Lode Mining Claim on July 4, 1891.  The mine became one of the best known in the district and earned Stratton about $3 Million.  He continued to work in the area and purchased several mines in the district, forming the Stratton Cripple Creek Mining & Development Company in 1901.  The company remained active well into the 1970's.
Stratton provided the land to build the Colorado Springs City Hall, Mining Exchange building, and Post Office and Federal Courthouse in Colorado Springs.  He donated the money for the construction of the El Paso County Courthouse, which is now the Pioneer Museum.  He paid for the construction of the Independence Building, where he had an office.  He donated money from his estate for the Myron Stratton Home for "the aged poor and dependent children." It is named for his father Myron Stratton.  He is a prominent figure in the history of the Pikes Peak Region.
This exhibit at WMMI is an example of what his office may have looked like.  There is also a model of an Assay office at the museum.  Learn about the history of mining, along with the impact it had on business, industry, transportation and growth in the area.