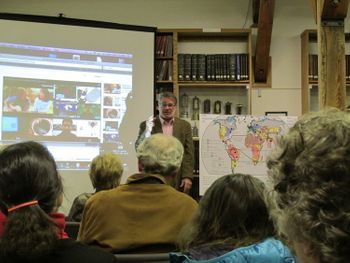 WMMI MONTHLY SPEAKERS' BUREAU LECTURES
The monthly Speakers' Bureau Lectures, hosted by WMMI, are designed to inform and educate members and the general public on important subjects pertaining to the history and science of mining and industry.
Admission is always FREE to Museum members and just $5 per person for the general public.  If a monthly lecture series is held on-line, Members receive an email with the link to the lecture.  The lecture will be released to the general public the next day via the WMMI website.
June 8 Speakers Bureau Monthly Lecture: The Story of Gilman
Tickets on sale now either online or call WMMI.  Call 719-488-0880 for more information
If you are a history buff and just enjoy poking around ghost towns, you'll have the time-of-your-life in this multimedia presentation.  Steven Veatch will share photographs and videos of his onsite explorations of Gilman, an abandoned mining town in southeastern Eagle County, Colorado. You will see the old hospital, general store, geology lab, miner's hall, and other town buildings. You will feel a sense of astonishment and discovery as you tour this mining camp that turned into a company town. This presentation tells the story of Gilman's four phases: 1) Gilman as a 19th century boomtown; 2) Gilman as a model company town under the ownership of New Jersey Zinc; 3) how Gilman fueled a thriving mid-20th century American economy; and 4) Gilman as a toxic wasteland after 100 years of environmental degradation. In the presentation the town's significance is explored in the broader context of Colorado and Western American history. Today this is private property and off limits to the public. Do not miss this essential presentation that examines a compelling story of Colorado's mining past in Gilman. It is a story so bold, so big, that only the American West can hold it.
May 11 Speakers Bureau Monthly Lecture: Egyptian Mining
Our speaker, Kaitlyn McGann, has been volunteering at WMMI since June 2020. She lives in Colorado Springs and in mid-summer 2020 virtually graduated from the University of Liverpool with a degree in Egyptology. Her interest is Egyptian linguistics and she reads hieroglyphics. Kaitlyn volunteered to give a talk as part of her internship. Enjoy this online presentation of Kaitlyn McGann's Monthly Lecture Series
April 13 Speakers Bureau Monthly Lecture: Ready, Set, GLOW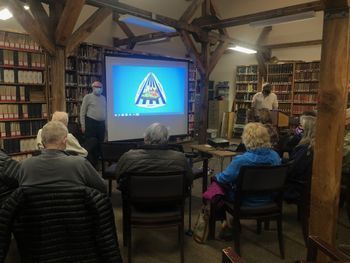 Mr Conrad North introduced our newest exhibit, Fluorescent Minerals.  We learned about their history, their make-up and what makes them so special.  The Lecture began in the Museum Library at 4pm with limited numbers due to current Covid-19 guidelines and mandates.  Thank you to everyone who came to see our new Fluorescent Minerals Room. 
March 9 Speakers Bureau Lecture Series (presented online)