2022 STEaM CAMPS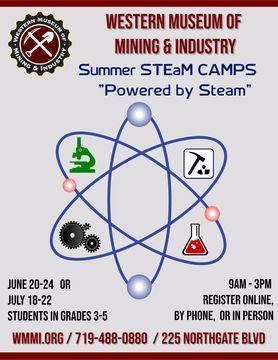 Summer STEaM Camps are currently full, but we are taking a waiting list.  Please do CALL 719-488-0880 as we have found we are often able to add the first names on the list each year.  Ask for Lauren, our Education Coordinator. 
It's fun to learn when learning is fun! 
Science, Technology, Engineering and Math in a fabulous setting at WMMI. Amazing experiments and activities. Engaging presenters who make STEM come to life. Fabulous take -aways and stories to share. A worthwhile camp your child will love!
Camp hours: 9am-3pm.  
Campers should bring their own lunch. Bottled water will be provided.
Camp Curriculum is designed for campers in 3rd - 5th grade
Summer Camp is either June 20-24  OR July 18-22, 2022.
Select the button below to take you to the registration page (once there, select which month you want), OR call 719-488-0880 during regular business hours.
Full information packet and forms will be sent upon registration. We will follow any current health guidelines that are in place during camp week.
Our Education Coordinator is Lauren, at 719-488-0880. Education@wmmi.org Please feel free to call or email for more details.